McNeel
und
SimplyRhino UK
freuen sich, die Konferenz Shape to Fabricaton und Rhinos "New Developments Day" ankündigen zu dürfen. Die aktuellen Neuigkeiten von VisualARQ 2 werden auf beiden Veranstaltungen zur Sprache kommen, und das
Entwicklungsteam von VisualARQ
wird all denen zum Gespräch und für praktische Demonstrationen zur Verfügung stehen, die sich im Hinblick auf den Rhino-Workflow für BIM interessieren.
Montag, 23. April 2018
Stratford Circus, Theatre Square in Stratford, London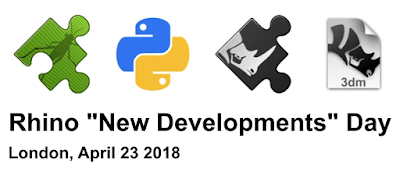 Der Rhino New Developments Day richtet sich speziell an alle Personen und Unternehmen, die an der Ausweitung von Rhinos Funktionsvielfalt durch Grasshopper wie auch durch öffentliche APIs wie RhinoCommon interessiert sind. Der Eintritt ist kostenlos, aber die Teilnehmerzahl ist begrenzt. Diese Veranstaltung findet einen Tag vor der Konferenz Shape to Fabrication statt.
Details und Anmeldung…
24. und 25. April 2018
Stratford Circus, Theatre Square in Stratford, London
Hierbei handelt es sich um eine zweitägige Konferenz über AEC, bei der die wichtigsten Architekturbüros und Entwickler ihre neuesten Projekte und Arbeiten vorstellen. Inhaltliche Schwerpunkte liegen während der Shape To Fabrication auf Spitzentechnologie und innovativer Bauweise sowie Anwendungen in Architektur, Engineering und Design. Die diesjährigen Referenten werden zukunftsweisende Aspekte der Technologie und des Engineering in den Vordergrund stellen. Unter den Veranstaltern sind: Heatherwick Studio; Arup; Chris Precht – Penda; Foster + Partners; Ramboll; Loop.ph; Proving Ground; Mortiz Waldemeyer; Mamou-Mani; McNeel; Fologram; 3XN und viele weitere! Die Funktionen der Flexiblen BIM sowie die aktuellen Neuigkeiten über VisualARQ 2 werden von Luis Fraguada und Francesc Salla während der Präsentation
"AEC adventures"
am 25. April um 12.30 Uhr vorgestellt.
Jetzt Tickets für Shape to Fabrication erwerben…