McNeel
y
SimplyRhino UK
se complacen en anunciar los eventos Shape to Fabricaton y Rhino «New Developments» Day. En ambos eventos se presentarán las últimas novedades de VisualARQ 2 y el
equipo de desarrollo de VisualARQ
estará disponible para hablar con cualquier persona interesada en BIM para el flujo de trabajo en Rhino.
Lunes, 23 de abril, 2018
Stratford Circus, Theatre Square en Stratford, Londres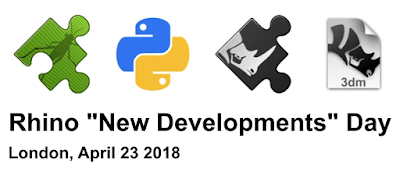 El Rhino New Developments Day está dirigido a personas y empresas interesadas en ampliar las funciones de Rhino, ya sea a través de Grasshopper o de API públicas como RhinoCommon. El evento es gratuito, pero las plazas son limitadas. Este evento tendrá lugar un día antes de la conferencia Shape to Fabrication.
Información completa e inscripciones…
Martes 24 y miércoles 25 de abril, 2018
Stratford Circus, Theatre Square en Stratford, Londres
Conferencia de 2 días que tratará sobre AEC, donde los principales estudios y desarrolladores de arquitectura mostrarán sus proyectos y trabajos recientes. La conferencia Shape To Fabrication se centra en la tecnología de vanguardia, la construcción innovadora y las aplicaciones para arquitectura, ingeniería y diseño. Los ponentes de este año quieren forjar el futuro impulsando la tecnología y la ingeniería para alcanzar nuevas metas. Ponentes: Heatherwick Studio; Arup; Chris Precht – Penda; Foster + Partners; Ramboll; Loop.ph; Proving Ground; Mortiz Waldemeyer; Mamou-Mani; McNeel; Fologram; 3XN y muchos más. Luis Fraguada y Francesc Salla mostrarán las funciones de Flexible BIM y las últimas novedades de VisualARQ 2 durante la presentación
«AEC adventures»
, el miércoles 25 de abril, a las 12.30 h.
Compre su entrada para Shape To Fabrication…