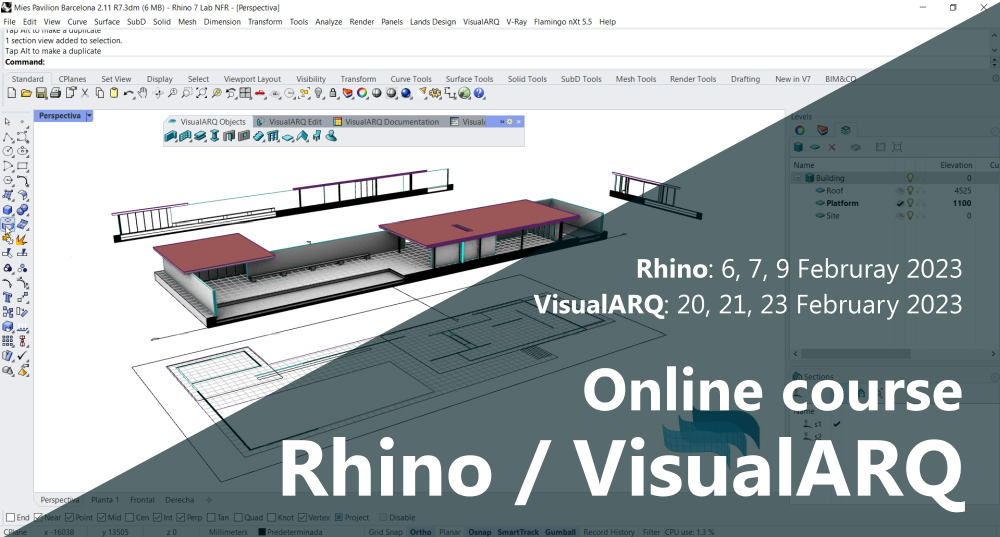 Rhino and VisualARQ online course
Rhino course: 6, 7, 9 February 2023
VisualARQ course: 20, 21, and 23 February 2023
16h-18h (UTC+1)
Language: English
Price: 180€+VAT (VisualARQ course only), 360€+VAT (full course). (Students 50% off)
This course is aimed at architects and professionals of architecture who want to get into BIM technology with Rhino and VisualARQ.
This course will introduce the main tools of Rhino and VisualARQ for developing projects of architecture in 3D, producing 2D documentation drawings, and delivering a BIM model for other AEC applications.
If you don't know Rhino, you can take the full course distributed into 6 sessions of two hours each, starting on February 6th, 2023.
If you are familiar with Rhino, you can skip the first course and just take the VisualARQ course, consisting of 3 sessions of 2 hours each, starting on February 20th, 2023.