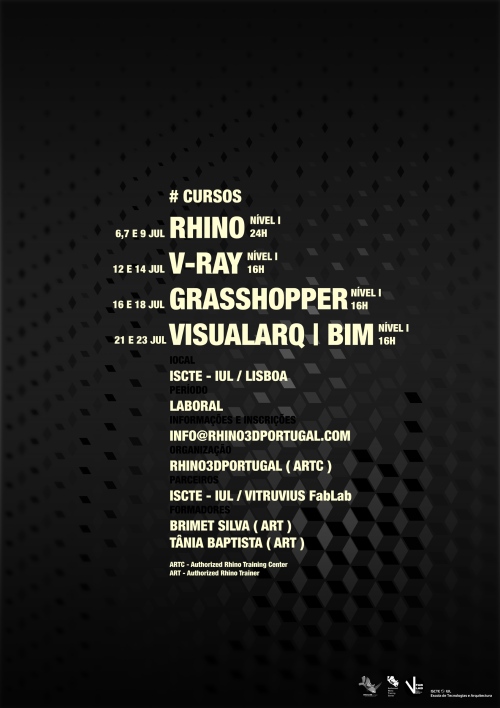 Details:
Organizers: Rhino3Dportugal (Authorized Rhino Training Center)
Instructors: Brimet Silva, Tania Baptista ( Authorized Rhino Trainers )
Schedule: July 6 2012 to July 23, 2012
Location: ISCTE-IUL: Av. Forças Armadas, 1649-026 Lis­bon, Por­tu­gal. SALA D114.
Partners: ISCTE – IUL – Vitruvius FabLab
Topics:
Use of digital tools in a creative and rigorous way for 3D modeling design.
3-D NURBS geometry modeling techniques
Development techniques to create photo-realistic images with

V-Ray 

render engine.
Introduction to parametric and associative techniques in the creative design process.
Introduction to the new BIM techniques in the structural process (Building Information Modeling).
Registration and information details:
info@rhino3dportugal.com
Ana Fonseca: 00351 – 917140716 More information available in the website: 
www.rhino3dportugal.com
July 6, 7 and 9:
Rhino3D course. Level I: 9.00 am-1.00pm and 2 pm-6.00pm (8-hour daily sessions)
July 12 and 14:
Vray course – Level I: 9.00 am-1.00pm and 2 pm-6.00pm (8-hour daily sessions)
July 16 and 18
Grasshop­per course – Level I: 9.00 am-1.00pm and 2 pm-6.00pm (8-hour daily sessions)
July 21 and 23:
VisualARQ and Rhino BIM – Level I: 9.00 am-1.00pm and 2 pm-6.00pm (8-hour daily sessions)