Shape To Fabrication
April 19-20, 2016
Stratford Circus, Theatre Square, Stratford, London E15 1BX
"
VisualARQ 2.0: flexible BIM solution for Rhino
" will be presented at the Shape To Fabrication conference 2016 in London. The presentation will focus on the BIM features VisualARQ provides to Rhino and a sneak preview of some of the new features of the upcoming VisualARQ 2.0 version. This event has a focus on cutting-edge technology, innovative construction and applications in architecture, engineering and design. This years speakers are shaping the future, unafraid to push technology and engineering to new heights. Discover the latest avant-garde projects from an international panel of presenters: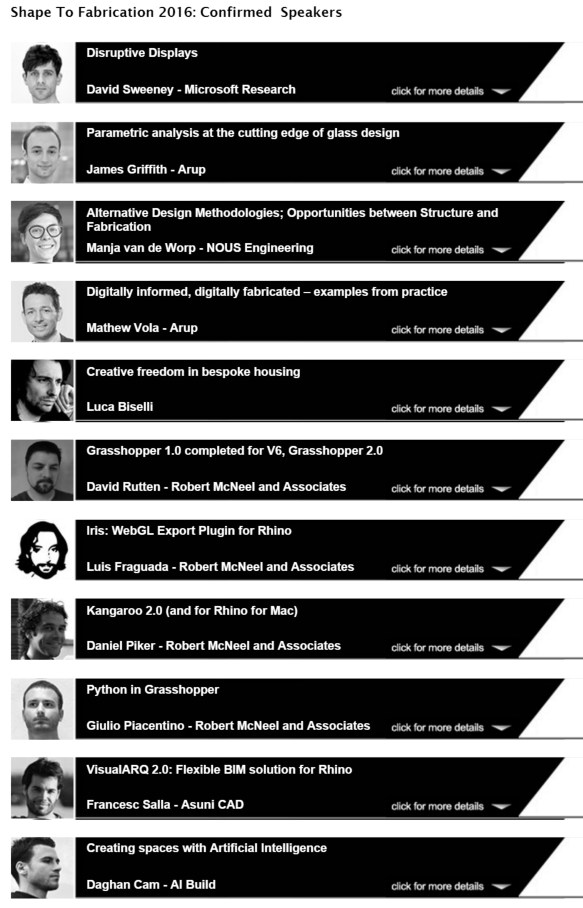 Details and registration…
Grasshopper UK User Group Meeting
Monday, April 18, 2016
15:00 – 19:00
Stratford Circus, Theatre Square, Stratford, London E15 1BX
Simply Rhino UK
is pleased to be hosting another Grasshopper UK User Group Meeting in London. This meeting will take place the day before the
Shape To Fabrication
2016, at the same location. Francesc Salla, the VisualARQ product Manager will show the different Grasshopper tools for VisualARQ, including the
VisualARQ Grasshopper Components
and a sneak preview of the new integration of
VisualARQ 2.0 with Grasshopper
. The Grasshopper UK User Group Meeting is free to attend but you
must
register here!