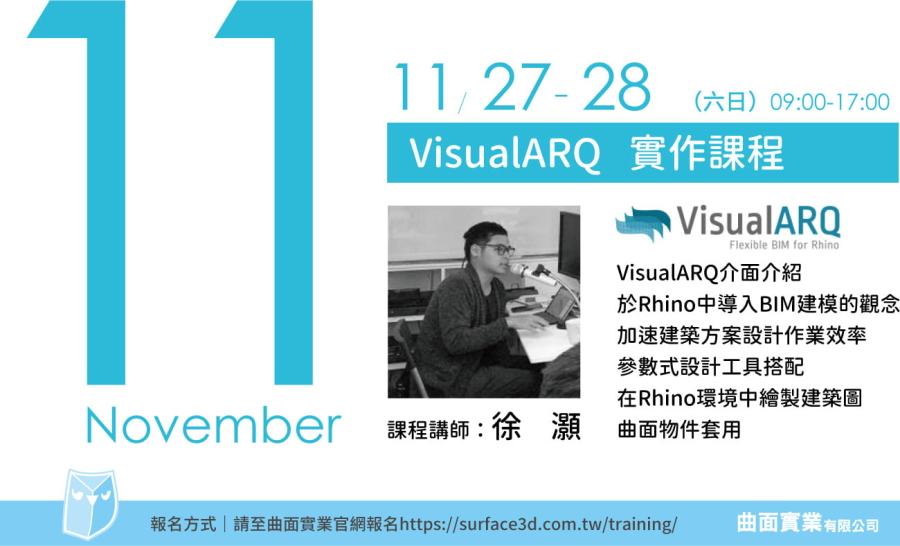 Surface3D, VisualARQ resellers in Taiwan, is going to hold a VisualARQ workshop next 27th and 28th November 2021.
VisualARQ Workshop in Tainan, Taiwan
Date:2021/11/27 – 2021/11/28
9:00AM – 5:00 PM
Fee: NT 12000 per person (tax included)
Workshop's Objective:
VisualARQ interface
Import BIM modeling into Rhino
Design more efficiently with VisualARQ
Work with parametric design tools
Make architectural drawings in the Rhino environment
Apply to curved objects
The workshop is for:
Rhino users with basic knowledge of Rhino and Grasshopper parametric design concepts, suitable for architectural and interior design professionals and students.
Workshop content
Introduction

Compare the SOP (Standard Operation Procedure) between 3D to 2D /2D to 3D.
The differences between Revit and VisualARQ.

Modeling

Basic UI description
VisualARQ object logic and modeling logic
Basic operation
External files(*.dwg): insert/link/import
Creating floors
Draw basic structural objects: columns, beams, slabs, walls
Basic component placement: doors, windows, custom components
Draw stairs and railings
Specified object type and specified material
VisualARQ objects update

Creating viewport

Viewport concept and layout
Create and draw floorplan
Create and draw elevation
Create and draw cross-section

Annotation

Create an annotation
Object label settings
Set column axis
Set Space Tag
Structural list
Making a Door schedule

File export (format exchange between software)

*.dwg file export
*.ifc file export
*.val style file import and export
Instructor:
HSU,HAO

2021-National Yangming Jiaotong University Institute of Architecture Computer-Aided Architectural Design Part-time Lecturer
2020-present Huang Shengji Architects Office / Director of Information Department
2018-present HJ PLUS. DESIGN Partner / Designer / Software Lecturer
2016-present DMO Rhino Architecture Course Lecturer
2014-present Rhino+GH Training Instructor (Enterprise & Individual)
Remarks: Lunch is provided for registered students. Location and dates are subject to change. When quorum is not reached, registration will be postponed to the next session.