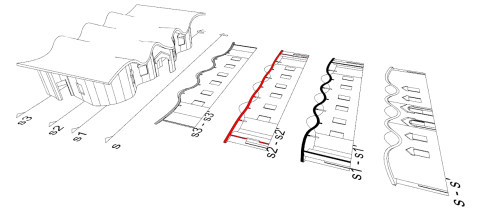 VisualARQ has made a big quality leap during the last year of development. Since version 1.5, in February 2012, there have been over 300 enhancements including new features, changes and fixed bugs.
Now, just about to release version 1.7, the software has improved considerably:
The 2-D graphical display in real time work with VisualARQ Rhino geometry (
video
). The section views have hatch attributes for sectioned objects (
video
) and the wall intersections have different options to set the most appropriate solution. Schedule tables can now quantify VisualARQ objects areas, volumes and lengths (
video
), and the IFC 2×3 export is more complete. You can check out all the enhancements and new features 
here
. But perhaps the biggest quality leap that VisualARQ has made so far is the integration with Rhino 5 32 and 64-bit. This change has allowed VisualARQ to benefit from Rhino 5 new features and enhancements and make VisualARQ for Rhino 5 a better, most robust and powerful software. VisualARQ for Rhino 5  handles larger projects, speeds up the workflow, and files with the same content are now much lighter. Version 1.7 will bring important enhancements in this area. The VisualARQ development team wishes you a successful 2013. We will keep developing VisualARQ, adding new features and improvements, and trying to meet our user's needs. Merry Christmas and a Happy New Year.