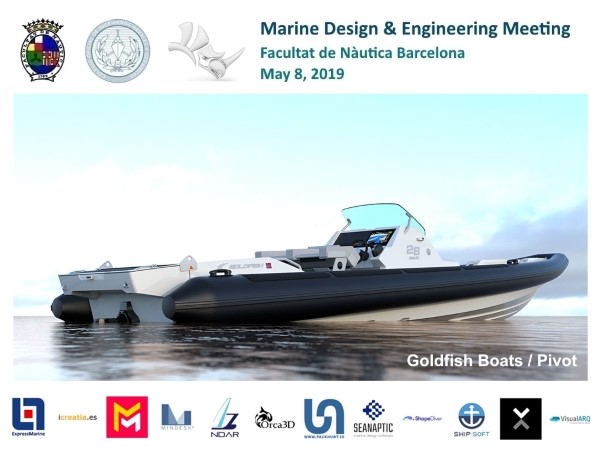 Encuentro sobre Ingeniería y Diseño Naval
Facultat de Nàutica Barcelona
8 de mayo, 2019
¿Es VisualARQ adecuado para el diseño naval? Descúbralo en este encuentro sobre Ingeniería y Diseño Naval en Barcelona. Como arquitecto naval, ingeniero, diseñador de yates, modelador 3D o desarrollador de software, este es un evento único que no se puede perder. Una colaboración entre McNeel, Facultat de Nàutica UPC y Colegio Oficial de Ingenieros Navales y Oceánicos. En la ciudad de Barcelona, en la histórica Facultat de Nàutica, en Pla de Palau, los expertos internacionales de la industria presentarán sus últimos proyectos y flujos de trabajo, y sus herramientas CAD/CAM/CAE/VR de vanguardia. Los ponentes principales serán:
Steve Baer and Scott Davidson (Robert McNeel & Associates)
Menno Deij – van Rijswijk (Maritime Research Institute Netherlands – MARIN)
Iuliu Prepelita (Seanaptic Ltd.)
Liam Woolley (Pivot / Goldfish)
Gerard Petersen (RhinoCentre NL)
Stéphane DARDEL (NDAR / Orca3D / ExpressMarine)
Matthieu Arnold (Ship-ST)
Ramón Cárceles (VisualARQ, Asuni)
Dariusz Sawicki (Prometso)
Javi Ferrín and Adriá Fradera (De Antonio Yachts)
Participe en las demostraciones en directo del software de proveedores de soluciones de diseño y carenado de cascos, ingeniería paramétrica, CFD, tuberías, realidad virtual y aumentada, visualización, configuradores de productos y mucho más. Los expositores confirmados son: icreatia, Mindesk, NDAR, Seanaptic Ltd UK, ShapeDiver, Ship-ST, VARJO, Orca3D, ExpressMarine, Packhunt.io, Maverick Render y VisualARQ. Conozca al personal de McNeel y obtenga más información sobre las nuevas funcionalidades de Rhino WIP (Sub-D, Cycles, QuadMesh, Voxels) y sobre las herramientas para desarrolladores de Rhino, plataformas y ecosistemas (RhinoCommon, Rhino Inside, Rhino Compute, RhinoVR, YAK, Grasshopper, food4Rhino).
Consulte la agenda completa aquí
.
Inscríbase aquí…