Utilities
This page is aimed at providing additional tools related to VisualARQ that may help you speed up and automate different modeling processes.
Most of these utilities are free Grasshopper definitions (available from the Food4Rhino website) that are ready to be used with the minimum Grasshopper knowledge required.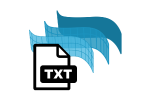 Generate a txt file with the information of the slab and wall layers existing in a model.